Learn to Write Japanese


with our newest classroom feature!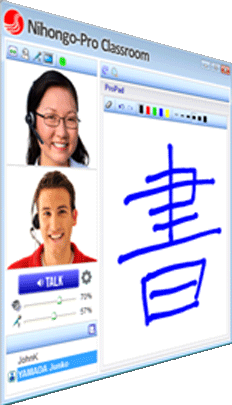 ProPad is our all-new shared blackboard for learning Japanese online, a surface where you and your teacher can draw or write freehand during your lesson.
Think of it as a paint program for Japanese characters that you and your teacher share.
During your Nihongo-Pro lesson, ProPad will appear automatically when your teacher opens it. Use your mouse to write directly on the ProPad window.
Using ProPad is Easy
Your teacher controls the ProPad window—when your teacher opens ProPad, it will pop up in your classroom window automatically.
Draw directly on ProPad using your mouse (or your finger or stylus, if your PC has a touchscreen).
Connect Your Smartphone or Tablet, Too!
Connect your mobile device, too, and you can draw on ProPad using your finger or stylus. Everything you write shows up in real time on both your mobile screen and your PC screen.
1

In your mobile browser, visit this page:

Or, point your camera and scan this QR code:

2

Log in as usual, and then click

Start ProPad

.

3

The wait screen will go away automatically when your teacher opens ProPad in the classroom. If the wait screen does not disappear, click the

Refresh

button.

4

Recommended!

For a larger writing area, add ProPad to the home screen on your mobile device. We strongly recommend this step on iPhone and iPad, in order to avoid accidentally swiping back and forth between pages (Safari's built-in page swipe gestures).

Draw with one finger

Scroll with two fingers
At lesson time, you still need to log in to the classroom from your PC, Mac, or tablet.
ProPad on your mobile device is an additional way to use ProPad during your lesson. If you don't have a mobile device, no worries—you can write directly on ProPad from the classroom window.