Nihongo-Pro offers online Japanese private lessons from professional Japanese teachers in a state-of-the-art online classroom.
Our private lessons are fully customized to your language goals, which means you can learn Japanese fast and make the most efficient use of your study time.
Whether you are learning Japanese for the JLPT, studying business Japanese, planning a trip to Japan, or learning Japanese for your own enrichment, Nihongo-Pro lessons are the best, fastest way to learn Japanese online.
Better Teachers
Nihongo-Pro teachers are professional Japanese teachers, trained in teaching Japanese and teaching online.
Our careful selection process and paid teacher training ensure your Nihongo-Pro teacher is expertly prepared for your lesson.
Many students have taken online lessons from their Nihongo-Pro teachers for years, as they progressed in learning Japanese.
Learning Japanese is more than chatting in Japanese. In our private lessons, Nihongo-Pro teachers build lesson plans customized to your goals and learning style.
Better Lessons
Private lessons at Nihongo-Pro are fully customized to your needs and goals, ensuring that you will learn Japanese as quickly and efficiently as possible.
Whether you are studying for the Japanese Language Proficiency Test (JLPT), learning business Japanese, focusing on written Japanese, or learning Japanese for fun, Nihongo-Pro teachers tailor your private lessons to make your learning fast, efficient, and fun.
Typical Skype Lesson

The student or teacher reads from the textbook.

With no whiteboard for lesson materials, the teacher relies on verbal instruction to direct the student.

Limited learning environment means slower learning.

Nihongo-Pro Lesson

Your Nihongo-Pro teacher presents textbook and custom lesson materials on the whiteboard, guiding you just as if you were in a real classroom.

Custom lessons in a custom classroom make your Japanese learning fast and efficient.
Better Classrooms—Way Beyond Skype Chat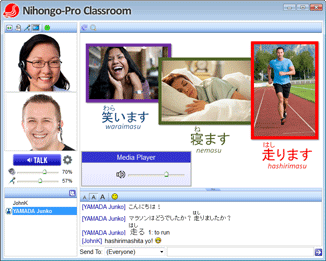 Nihongo-Pro classrooms are custom built for online Japanese classes, with learning features that Skype cannot match:
Built-in Japanese-English dictionary
Large whiteboard for presenting lesson materials
Teacher-directed audio playback (great for listening comprehension)
Easy to use, nothing to install. Log in from your browser.
Better Policies
No other online Japanese school can match Nihongo-Pro's flexibility, affordability, and customer service. From the convenience of buying lesson tickets in any quantity, to having a full year to use your lesson tickets, to some of the lowest prices for Japanese lessons, Nihongo-Pro sets the standard in online Japanese classes.
Buy any number of lesson tickets, not just fixed-size packages.
All lesson tickets are good for one year.
Reserve all lessons up to 30 days in advance—other schools charge extra for this service.
Earn free ProPoints with every lesson you take. Redeem your points for free lessons, lesson discounts, and more.
Exchange email with your Nihongo-Pro teacher privately.
The Best Way to Learn Japanese Online
Nihongo-Pro software is unbeatable for learning Japanese online, with these exclusive features:
Triple protection against forgetting or missing your lesson. Receive email reminders when you have an upcoming lesson or when you don't show up for a lesson. Show your reservations in iCal or other calendar app--Nihongo-Pro keeps the schedule up-to-date automatically.
24-hour video chat room—chat with fellow students in Japanese 24 hours a day!
Hundreds of free Japanese quizzes with new quizzes available every day. Nihongo-Pro quizzes work on any PC, laptop, tablet, iPad, iPod, iPhone, or smartphone, and all Nihongo-Pro quizzes are 100% free.
Reserve lessons up to 30 days in advance—at other schools you pay extra for this service.
Exchange email with your Nihongo-Pro teacher privately.
No entry fee at Nihongo-Pro—other schools charge up to $90.
One login gets you everywhere: your account, the Nihongo-Pro classrooms, the 24-hour video chat room, your past lessons, and your upcoming lessons. Simple, fast, efficient.
Compare Nihongo-Pro
Nihongo-Pro offers an unmatched environment for learning Japanese online, with better teachers, better classrooms, and better lessons. Our platform is designed to make Nihongo-Pro the best place to learn Japanese online and achieve your Japanese language goals. Compare for yourself:
Other Online Japanese Schools

Professional, native-speaking Japanese teachers

Nihongo-Pro teaching staff includes government-certified Japanese teachers with advanced teaching experience, including experience with online Japanese lessons. All teachers complete two months of paid training and participate in our continuing teacher education sessions.

Nihongo-Pro

Other Schools

Private lessons customized to your goals

Other schools may force you into their curriculum, but at Nihongo-Pro you get private lessons tailored specifically to your Japanese goals.

Learn more about private lessons.

Nihongo-Pro

Other Schools

Earn free stuff with ProPoints

Nihongo-Pro

Other Schools

Classroom custom built for online Japanese lessons

No other online Japanese school offers a better learning environment, custom built for online Japanese lessons. A Skype chat session cannot match these learning features:

Built-in Japanese-English dictionary
Large whiteboard for presenting lesson materials
Audio playback for listening comprehension lessons

Nihongo-Pro

Other Schools

Skype chat or shared rooms

24-hour-a-day chat room—free to everyone

Only Nihongo-Pro offers a 24-hour-a-day video chat room, free to everyone. Practice speaking Japanese with other students and Japanese learners, or simply meet up for free chat.

Nihongo-Pro

Other Schools

Reserve lessons up to 30 days in advance

Fit online Japanese lessons into your busy schedule up to 30 days in advance. Other schools may allow reservations only 7 days in advance, or charge extra for 30-day advance booking.

Nihongo-Pro

Other Schools

Free trial lesson

If you're considering private lessons, try before you buy. Meet your new Japanese teacher, discuss what you want to focus on during your online lessons, and then get a taste of your teacher's lesson content and style.

Learn more about private lessons.

Nihongo-Pro

Other Schools

Triple protection against missing your lessons

Only Nihongo-Pro makes sure you don't forget a lesson with triple protection:

Upcoming lesson reminder emails
Late-lesson reminder emails
Automatic export of your lesson schedule to calendar apps

Nihongo-Pro

Other Schools

Email privately with your teacher

Nihongo-Pro respects your privacy: No one but your teacher sees your email. All we ask is that you respect your teacher's time.

Nihongo-Pro

Other Schools

Lesson tickets good for a year (more if you need it)

All lesson tickets are good for one full year.

If you need more time, Nihongo-Pro offers low-cost ticket extensions. Other schools require you to buy more tickets, just to avoid losing the expiring ones.

Nihongo-Pro

Other Schools

Free online Japanese lesson with TrialPay

Nihongo-Pro

Other Schools

Free Japanese quizzes—100% free to everyone!

Try free Japanese language quizzes every day at Nihongo-Pro. Nihongo-Pro quizzes work on any PC, smartphone, or tablet, so you can try our free quizzes anywhere.

Try free Japanese quizzes.

Nihongo-Pro

Other Schools

Free kanji and kana games

Nihongo-Pro

Other Schools

No entry fee

Never pay an introductory or entry fee at Nihongo-Pro.

Nihongo-Pro